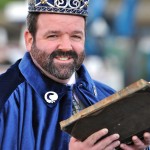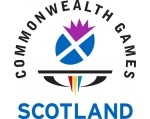 200 athletes,  55 coaches,  25 mission staff and one Gaelic Nova Scotian poet – that's the Canadian contingent (sort of) to the 20th Commonwealth Games in Glasgow, Scotland, 23 July-3 August, 2014.
Lewis MacKinnon, author of Famhair agus dàin Ghàidhlig eile / Giant and Other Gaelic Poems (CBU Press 2008) is part of a team of Commonwealth and Scottish writers who will explore Scottish connections with literature of the Commonwealth and the wider world.
This is one of a number of unique series of literary events being held across Scotland in parallel with the Queen's Baton Relay prior to the opening of the games.
Organized by Scottish PEN the series is an international exchange between six Scottish poets, and poets from six Commonwealth nations. Poets will spend time creating new work, visiting schools and exploring the local culture.
The Queen's Baton Relay, having travelled the Commonwealth already, will travel  through 400 towns, villages and cities over 40 days across the U.K., offering people across the nation the chance to be part of the countdown to Scotland's biggest ever sporting and cultural event.
Mr. MacKinnon's participation, will be while the relay is on the Isle of Lewis, Tuesday, July 8, 7-9 p.m., at the Woodlands Centre, Lews Castle Grounds, Stornoway. It's an evening of poetry and music, with Meg Bateman, respected Gaelic poet and scholar and singer Babs MacGregor. It's a free, but ticketed event.
MacKinnon is the current holder of the Scottish Bardic Crown, official bard (poet laureate) of the Royal National Mod. He is the first poet to the appointment from outside of Scotland. That three-year appointment will culminate at the Mod in Inverness this October, at which time CBU Press will be launching his second Gaelic Poetry collection, A' Rud Mì-Bheanailteach / The Intangible.
The Commonwealth is an association of independent sovereign states of 2 billion people making up 30 per cent of the world's population of many faiths, races, languages, cultures and traditions and spread over every continent and ocean. The Commonwealth Games is a unique, world class, multi-sports event which is held once every four years. It is often referred to as the "Friendly Games." More than 6,500 athletes from 71 countries will compete in 17 sports over 11 days in Glasgow.