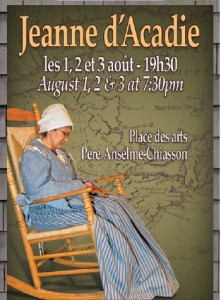 We are very excited to learn that Le Festival de l'Escouette will stage a play entitled Jeanne d'Acadie, by Paul D. Gallant. The title character is Jeanne Dugas, whose incredible life story was fictionalized in the novel, Jeanne Dugas of Acadia by Cassie Deveaux Cohoon (CBU Press 2013).
Born of Acadian parents at Louisbourg, Jeanne Dugas (1731-1817) and her husband Pierre Bois were among the founding families of the Acadian village of Chéticamp in 1785. Descended from one of the three most prominent families in Acadia, Jeanne Dugas and her family lived for more than thirty years under the threat of capture and deportation by the British militia and attacks by pirates and privateers.
In many ways, the life of Jeanne Dugas and her family is the story of 18th-century Acadians. We look forward to seeing the play, which will be staged on August 1, 2 and 3 at la Place des Arts Père-Anselme-Chiasson, Chéticamp.