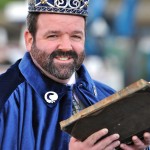 We were delighted to receive a copy of a new book by our friend and colleague bàrd Lodaidh MacFhionghain (Lewis MacKinnon) – a new collection of Gaelic poetry: Ràithean airson Sireadh / Seasons for Seeking (Bradan Press).
We worked with Lewis on two collections of his original Nova Scotian Gaelic poetry, Famhair: agus dàin Ghàidhlig eile / Giant: and other Gaelic poems (2008) and Rudan Mì-bheanailteach is an Cothroman, Dàin : Intangible Possibilities, Poems (2014). Both books were launched in Scotland to wide acclaim. During our time working with Lewis, he was named bàrd of the Royal National Mòd, the first such honour for a Gaelic poet from outside of Scotland.
Lewis is a thoughtful man, and a long-time reader of the renowned 13th-century Persian poet Rumi, whose Sufi poetics Lewis reads through translation/interpretation by American poet Coleman Barks.
In a recent interview with CBC, Lewis noted that "Rumi is an interesting figure. He was what we might call a very orthodox Muslim in the sense that he worked, after his father's death, in running a religious school." But a later encounter "broke Rumi free" of human rules in favour of spiritual truth.
Lewis recognized an opportunity to demonstrate Gaelic's expressiveness, and, working with Coleman Barks, set about a translation/interpretation project of his own.
In Seasons for Seeking, Lodaidh translates selected Rumi/Barks poems into Gaelic, adds some original poetry of his own (complete with English poetic translations) all thematically arranged corresponding with the Gaelic cultural calendar. MacKinnon has been invited to read at The Word on the Street, Halifax, September 15, at the Central Library.
You can link to the entire CBC interview here: http://www.cbc.ca/news/canada/nova-scotia/echoing-off-the-walls-of-god-13th-century-muslim-poet-translated-into-gaelic-1.4401538
For more on Ràithean airson Sireadh / Seasons for Seeking, link to: http://www.bradanpress.com/raithean