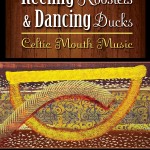 We were delighted to preview a forthcoming review of Heather Sparling's Reeling Roosters and Dancing Ducks: Celtic Mouth Music in International Review of Scottish Studies vol. 41 (University of Guelph).
Frances Wilkins, of the Elphinstone Institute, University of Aberdeen,  writes: The book is "coherently presented and thoroughly researched […] and has all the key ingredients" of an ethnography.
"Chapters run into each other effortlessly but readers with specific interests will find that individual chapters stand up successfully on their own," she continues. "The book is highly comprehensive and offers a substantial body of useful information and good reading material for academics and non-academics alike."
Click here to view a series of interviews between Heather Sparling and Gaelic scholar John Alick MacPherson.