The Journal of Folklore Research was good to Cape Breton this month, with favourable reviews of two CBU Press books.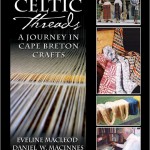 Of Celtic Threads: A Journey in Cape Breton Crafts, by Eveline MacLeod and Daniel W. MacInnis (CBU Press 2014), JFR says, "this is a beautifully and thoroughly illustrated volume [with] a cohesive visual narrative throughout […] in a very approachable style."
"This book offers a substantial collection of resources [and] the inclusion of individual perspectives is an important contribution to the documentation of material culture…."
We were so happy to have worked with Eveline and Dan to preserve and publish Eveline's vast reserve of research and recollections. It is our understanding that Eveline's personal collection of patterns, and even weaving samples, have been donated to the Beaton Institute for the benefit of future researchers. Link to the full review here.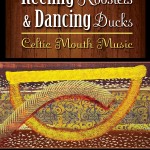 Of Reeling Roosters and Dancing Ducks: Celtic Mouth Music, by Heather Sparling (CBU Press 2014), JFR says "Sparling's style of presentation makes this work an excellent introduction [and] offers a thorough grounding in such areas as Scottish cultural history, Celtic tune genres, and the history of Scottish and Cape Breton dancing."
"This book may well be the first of its kind … a valuable addition to any private or educational library…."
This is the first book of its kind. Dr. Sparling was a pleasure to work with and we were grateful to bring it to life. The book was very well received in Scotland where it was launched at the Royal National Mod in October 2014). Link to the full review here.
Watch for two new books on Cape Breton's Celtic music traditions scheduled for fall 2015: The Cape Breton Fiddle Companion, by Liz Doherty (yes, that Liz Doherty); and One with the Music: Cape Breton Step Dance Tradition and Transmission, by Mats Melin, an international scholar well known in step-dance circles.