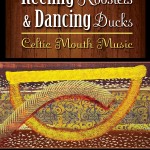 Congratulations Heather Sparling, whose recent book on Celtic mouth music has been shortlisted for an East Coast Literary award.
The Evelyn Richardson Non-fiction award is presented annually by the Writers Federation of Nova Scotia.
Launched in Scotland in October, Reeling Roosters & Dancing Ducks: Celtic Mouth Music, brings together years of Sparling's research about puirt-a-beul – the Scottish Gaelic term for mouth music.
The East Coast Literary Awards will take place June 6, in Halifax. Prior to the awards, Dr. Sparling will participate in a panel discussion in Wolfville on June 4.
Dr. Sparling is Associate Professor of Ethnomusicology and Canada Research Chair in Musical Traditions at Cape Breton University.