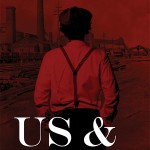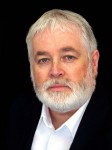 Lots of buzz around Hugh R MacDonald's Us and Them (CBUP 2016) this week. We can't resist sharing these reader reviews posted on Amazon – especially the calls for a TV series!
Marguerite MacClavey writes:
"Yes, the trials and hardships are articulated very well but so too are the tender moments. Love between a couple married for years and the new love awakening in the hearts of the young ones in their communities reawaken my first loves and the love I now hold for my life's partner.
"I wish I could gift this book to adolescents who have no idea of the sacrifices many of their ancestors faced. I would even go so far as to say I would love to see this book – and a third one please – made into a movie. I have no doubt that writing of this caliber would translate with ease into a documentary – or even a movie.
"The men and the women in these novels demonstrate the best of us when we are called upon to keep our families together. It would be excellent for our children to watch this with their families and talk about subjects not often enough discussed – ethics, morals, work ethics and the strength of families who forged their values through hard work, worry and love."
Joan (Joni) Brown (in Nebraska) writes:
"Thank you to the Author. Hugh MacDonald for the story line … of how life was … and how someone can make a difference in another's life … and pass it forward..:).."
Fred Lavery writes:
"The themes and images portrayed here are very familiar to anyone who remembers the days of "coal as king" in Cape Breton. It's easy to picture the faces of our 'kith and kin' in the personalities presented, making for affecting results as the story builds. For the younger generations … a realistic look back at the rugged history and hard won labour battles fought by miners and their families in the early and mid-1900s.
"From 'Trapper Boy' to 'Us and Them,' here's hoping we get to follow JW's journey further in the future, then maybe the TV series adaptation…."
TV series has a nice ring to it, doesn't it? (Oh, the Trapper Boy reference is of course Hugh's first novel, to which Us and Them is a stand alone sequel – but you knew that.)