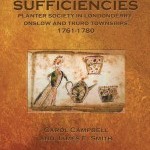 Congratulations to Carol Campbell and Jim Smith of Truro, whose 2011 book on 18th-century Planter society in Colchester County, was awarded the Democracy 250 Atlantic Book Award for Historical Writing Thursday evening in St. John's.
Necessaries and Sufficiencies, Planter Society in Londonderry, Onslow and Truro Townships, 1761-1780 (CBU Press) was also shortlisted for the Dartmouth Book Award for non-fiction. Wrapping up a week of readings across the region, the Atlantic Book Awards ceremony was held before a packed house at the legendary LSPU Hall in downtown St. John's.
A second CBU Press book, Frank Macdonald's A Possible Madness was a finalist for the Dartmouth Book Award.