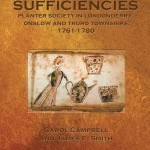 In a review essay focusing on publications on Planter Studies, Elizabeth Mancke, Acadiensis (XLII, no. 1), has high praise for Campbell and Smith's award winning Necessaries and Sufficiencies (CBU Press 2011,).
"Assiduously researched and eloquently crafted, [utilizing] fragments of evidence that many scholars would have discarded, contextualizing them to reconstruct daily life…" "In doing so, they provide evocative descriptions of [life]."
Such studies "underscore how important it is to understand Nova Scotia, and the Atlantic region more generally, on its own terms … innovative and stimulating."
Necessaries and Sufficiencies: Planter Society in Londonderry, Onslow and Truro Townships, 1761-1780, by Carol Campbell and James F. Smith, won the 2012 D-250 Atlantic Book Award for Historical Writing.
Acadiensis XLII, no. 1 (Winter/Spring 2013): 169-81.