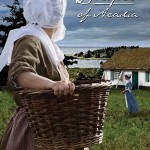 We recently got the wonderful news that Jeanne Dugas, the subject of Cassie Deveaux Cohoon's biographical novel, Jeanne Dugas of Acadia (2013), has been recognized by the Canadian government as a person of national historic significance – nearly 200 years after her death!
Hon. Catherine McKenna, Minister of Environment and Climate Change and responsible for Parks Canada, announced the designation in conjunction with Heritage Day (February 15). Dugas is one of 38 new nationally significant persons, places and events.
Born of Acadian parents at Louisbourg, Jeanne Dugas (1731-1817) and her husband Pierre Bois were among the founding families of the Acadian village of Chéticamp in 1785. Descended from one of the three most prominent families in Acadia, Jeanne Dugas and her family lived for more than thirty years under direct threat of capture and deportation by the British militia and attacks by pirates and privateers.
The novel chronicles Jeanne Dugas's trials and tribulations from her birthplace of Louisbourg to Grand Pré (NS), to Port Toulouse and Mira (Cape Breton), Île-Saint-Jean (PEI), Remshic (NS), Restigouche (NB) and back again – often more than once. Finally captured by the British militia, she and her family were imprisoned for three years on George's Island, where three of her four children died. When released, they sought refuge on Île Madame (Cape Breton) and finally to the area now known as Chéticamp.
In many ways, the story of Jeanne Dugas and her family is the story of the Acadians.
The Parks Canada announcement reads, in part: "Dugas's personal history illustrates the experiences of Acadians in the 18th and early 19th centuries, before, during, and after the Grand Dérangement. Dugas's story also reveals linkages between Acadians from across the region, including those from Acadia, Île-Royale and Île-Saint-Jean, as well as Restigouche and the other safe havens in the Gulf of St. Lawrence. Her numerous displacements connect geographically distant places that together play an important role in Acadian history.
"Dugas and other Acadian women in this time period ensured the survival of their families and communities, thus contributing to the survival of the Acadian people. Throughout the privations and instability of war, Dugas managed to feed and care for her family, and she helped rebuild her family's life in new and unfamiliar locations. In Chéticamp, Dugas worked as the village midwife, and as midwives were also caregivers, she likely looked after the sick. In this role, she helped her community flourish during the years of Acadian resettlement in Cape Breton after 1764. She appeared in the census as a widow in 1809 and died eight years later, at 86 years of age."
For Cassie Cohoon, author of Jeanne Dugas of Acadia, who spent many years researching the people and events of the era, "Jeanne Dugas is not a heroine who performed mighty deeds, she is a very real woman who lived through a very difficult time in our past with perseverance and endurance … in search of a roof, a bed, a meal, a home for themselves and their children. Jeanne Dugas is a worthy representative of the Acadian woman…."
So, congratulations Cassie! (and yay! CBU Press for the foresight to publish such an important novel).