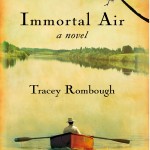 Atlantic Books Today's (#80) holiday edition, a special edition emphasizing history, goes into circulation this weekend (Nov. 27-29, 2015) – watch for it in regional newspapers and in bookstores across Atlantic Canada.
We're delighted that Tracey Rombough's stellar debut novel, Immortal Air, was selected for a feature interview – it's a fine example of the blend of fact and fiction. In fact, that's the title of the article as sent out in ABT's Book Club Insider newsletter this week.
The article recounts the impetus for Tracey's novel and the intricacies of marrying biography and imagination to tell the life story of New Glasgow-born poet George Frederick Cameron.
You can link here to the full article.
We've posted before about an article in the Kingston Whig-Standard; you can link to that article here.
In recent years, CBU Press has published a number of novels in the genre of historical fiction, both adult and young adult, including the Thomas Pichon novels, Jeanne Dugas of Acadia, Cibou and (for young people) Trapper Boy, Me & Mr. Bell and The Manager. Check out the full menu at www.cbupress.ca.