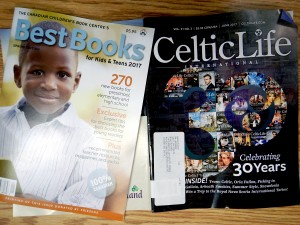 The latest issue (Spring 2017) of the Canadian Children's Book Centre's Best Books for Kids and Teens arrived this week. As previously highlighted, Hugh R. MacDonald's Us and Them was selected for inclusion!  In the same batch of mail, the latest issue of Celtic Life International also includes a review of Us and Them. And, we just learned that Hugh will be among the featured guests at a Miners Museum 50th anniversary shindig on June 14.
For some icing on that cake, the 2017 TD Children's Book Week (May 6-13) special "Read Across Canada!" promotion (A literary journey across Canada) features Hugh's first novel, Trapper Boy (CBUP 2012).
For forty years, hundreds of Canadian authors, illustrators and storytellers have participated in Book Week, celebrating books and stories with young readers from coast-to-coast-to-coast. This year also marks Canada's sesquicentennial, so this year's theme guide also features more than 150 books that pay tribute to the different regions of Canada.
Also on that list of 150 influential books for teens across Canada: The Manager, by Caroline Stellings, and Blood Brothers in Louisbourg, by Philip Roy!