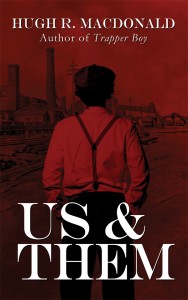 A valued resource for Canadian learning materials, the December 2016 issue of Resource Links (vol. 22, no. 2) will soon be in circulation, and we are so pleased that a review of Hugh R. MacDonald's Us and Them is included. Not only that, it made the publication's "Best of 2016" list.
"Us & Them is an excellent piece of storytelling that should be in the Canadian history curriculum for Grades 7-12. The historical content is accurate, and very compelling, not just as a coming of age story, but as a story that both male and female readers can enjoy […] a remarkable book that will have the reader hoping for the next installment…. Highly recommended for both public and school libraries…."
The review calls Us and Them "'stepping back in time' to discover a rich history…. The conditions in the mines are so vivid that in reading the author's descriptions the reader could close his/her eyes and sense being underground."
Published five times a year, Resource Links: Connecting Classrooms, Libraries and Canadian Learning Resources is Canada's national journal devoted to the review and evaluation of Canadian resources for children and young adults. For subscription information: resourcelinks@nl.rogers.com.