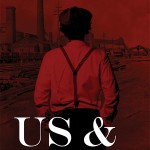 We are delighted to report that Hugh R. MacDonald's new novel for young adults, Us and Them, has been selected for the Canadian Children's Book Centre's Best Books for Kids and Teens, Spring Edition 2017.
Hugh's first novel Trapper Boy was also selected for BBKT, in Spring 2013.
Us & Them is a stand-alone sequel to Trapper Boy. Both are set in 1920s Sydney Mines, the story of JW Donaldson, who twice interrupts his education to work in the coal mine to help support his family.
A fatal accident in the mine awakens JW to just how dangerous working conditions are and to how management seems to care more about production than about the men and boys who are the means of that production.
JW enlists the aid of union activist and local hero, JB McLachlan, and learns that even the young can be a positive voice for change.
CM magazine says "Us & Them is both entertaining and educative. […] Well-structured … Us & Them … brings to life a dramatic and significant part of history."
Resource Links (vol. 22, no. 2), a valued resource for Canadian learning materials, says Us & Them is an excellent piece of storytelling that should be in the Canadian history curriculum for Grades 7-12. The historical content is accurate, and very compelling, not just as a coming of age story, but as a story that both male and female readers can enjoy […] a remarkable book that will have the reader hoping for the next installment…. Highly recommended for both public and school libraries…."
Us and Them regularly cracks Amazon's top 100 sales in categories like Canadian historical fiction.