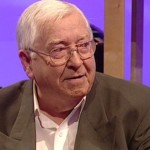 We are so sad to mark the passing of John Alick MacPherson (Seonaidh Ailig Mac a' Phearsain in his native Gaelic) on August 31, 2017, at the age of 79, after a period of declining health.
John Alick was a generous friend and mentor to CBU Press, particularly with respect to our efforts in Celtic and Gaelic studies. He was always available for translation, advice and to share a story.
With Michael Linkletter, John Alick MacPherson worked with us on Fògradh, Fàisneachd, Filidheachd / Parting, Prophecy, Poetry: An T-urr. Donnchadh Blàrach (1815-1893) ann am Mac-Talla / Rev. Duncan B. Blair (1815-1893) in Mac-Talla, a collection of writings and poems Rev. Blair in Mac-Talla, a late-19th-century Gaelic newspaper published in Cape Breton.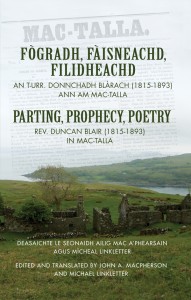 John Alick Macpherson was a native Gaelic speaker from Harris and North Uist, Scotland, but he lived, with his wife Helen, in Marion Bridge, near Sydney, Nova Scotia, for many years. Educated at Edinburgh and Jordanhill College of Education, where he trained as a teacher of Gaelic and history, he taught Gaelic in the Scottish school system. John Alick also worked for the Gaelic Department of the BBC as a producer, and was deputy director of the Gaelic Broadcasting Committee and involved in many Gaelic activities including being on the board of the Gaelic Books Council and Bòrd na Gaidhlig. He was also the Chair of a Scottish government task force whose findings led to formation of the Ministerial Advisory Group on Gaelic and, in turn, the Gaelic Language Act. Other Gaelic activities include writing columns for the Gaelic newspaper An Gaidheal Ùr and the Gaelic magazine An Gath, preparation of Gaelic language plans, and the translation into Gaelic of complex documents for several Scottish organizations. He was also on the board of Caledonian MacBrayne.
In his early years, John Alick was a poet of some renown, at the age of twenty-three he won the Poetry Crown at the National Mòd (1961). His autobiography, Steall à Iomadh Lòn (Clàr, 2011), won the Donald Meek Award for new Gaelic writing.
He was instrumental in verifying and finalizing an annotated index of Mac-Talla for the Beaton Institute of Cape Breton Studies at Cape Breton University, as well as the chief Gaelic language consultant for their Cape Breton's Diversity in Unity site.
When we launched Fògradh, Fàisneachd, Filidheachd / Parting, Prophecy, Poetry in Scotland in 2013, John Alick was generous with his insights and his contacts across that country, making it one of our most successful Scotland book tours.
You can link here to a presentation about the book recorded at the Beaton Institute in October 2013.
Funeral service will be held at St. Columba Presbyterian Church, Marion Bridge on Saturday, September 9, 2017, at 11 a.m., with Rev. Lydia MacKinnon officiating. Interment in Oakfield Cemetery. Memorials may be made to the Canadian Liver Foundation.
You can read his obituary here.
You can read BBC Alba's announcement (Gaelic) here.
(Photo taken from BBC Alba website.)