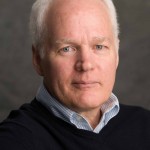 Author, colleague and friend A.J.B. (John) Johnston will be speaking at the McConnell Memorial Library in Sydney on April 24, 7-9 p.m., to officially launch his two (count 'em, two) latest novels. John's talk is entitled "One Hour, Two Books."
Johnston is well known for his publishing record, both as a historian with Parks Canada for more than thirty years, and as a novelist, a genre he engaged with upon his retirement. CBU Press worked with him on a number of projects over the years: From the Hearth, recipes from 18th-C Louisbourg (with Hope Dunton); Storied Shores, Chapel Island, St. Peter's and Isle Madame in the 17th and 18th centuries; and the acclaimed Thomas Pichon Novels, Thomas, A Secret Life (2012), The Maze (2014) and Crossings (2015).
John has now self-published The Hat, a young adult novel giving a fresh, 21st-century take on the Acadian Deportation, and Something True, a coming-of-age novel inspired by the true-life story of Katharine McLennan.
John tells us that The Hat has been attracting attention in Louisiana. He's received some glowing comments and it looks like there could be a campaign to have it read by as many young Cajuns as possible, as part of a way to engage young people in their Acadian history. Katharine McLennan's story is a fascinating one and as someone with long-time interest in that story, Johnston is the person to tell it.
A similar event will take place in Johnston's hometown of Truro on May 17, at the Colchester Historeum.
The Hat and Something True are both available at Amazon.com, and the Cape Breton Curiosity Shop will have them at the event April 24, if not before.