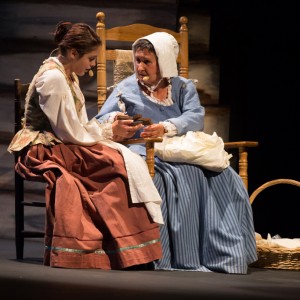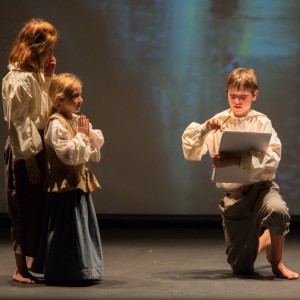 Eleven excited youngsters from across Nova Scotia took part in a week-long (July 28-August 3, 2014) performing arts camp in Chéticamp, focused on the life of Jeanne Dugas.
The event was organized by the le Conseil des arts de Chéticamp in partnership with the Nova Scotia Departments of Education and Early Childhood Development and Communities, Culture and Heritage, and la Société St-Pierre.
The week-long skills workshop prepared the young actors for interpretive roles in the telling of Jeanne Dugas' story in a new play, Jeanne d'Acadie, staged August 1-3, during Le Festival de l'Escouette.
Written for the stage by Paul Gallant, the play was inspired by the novel Jeanne Dugas of Acadia by Cassie Deveaux Cohoon (CBU Press, 2013). While the main characters of the play told the story, the children acted it out. Gilberte Cormier played Jeanne Dugas, while Makenzie Dunn played Jeanne's grand-daughter Eulalie.
More than 250 people enjoyed the performances and the young people involved were very excited to see the reactions of the crowd and hear their comments after the show.
Conseil des arts de Chéticamp spokesperson Joeleen Larade says the group plans to approach other Acadian communities in hopes of sharing both the workshop and the plays with audiences across the region.
Under the leadership of  la Société St-Pierre, the arts camp was one of several plans in the Chéticamp area to raise awareness of the life of Jeanne Dugas. Fortress of Louisbourg National Historic Site has already undertaken a new exhibit devoted to Dugas.
Born of Acadian parents at Louisbourg, Jeanne Dugas (1731-1817) and her husband Pierre Bois were among the founding families of the Acadian village of Chéticamp in 1785. Descended from one of the three most prominent families in Acadia, Jeanne Dugas and her family lived for more than thirty years under the threat of capture and deportation by the British militia and attacks by pirates and privateers.
In many ways, the story of Jeanne Dugas and her family is the story of the Acadians.
Photos by Michel Soucy.