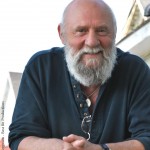 Cape Breton author Frank Macdonald will be wearing out his tires this spring and summer, but not his welcome, of course.
In the comings months Frank will be giving readings across Nova Scotia.
April 28, he's in Bass River, NS, visiting with a local book club. May 28, he will spend the evening with a book club in L'Ardoise. June 23, he's in Annapolis Royal, June 24 in Liverpool, and August 20 in Arichat.
We're sending Frank off with a recent review of Tinker & Blue ringing in his ears:  "All the while there is Macdonald's wily and warm wit and wisdom, accompanying his travellers like a cozy quilt of acumen."
Celtic Life International, vol. 29, no. 2, (April 2015).