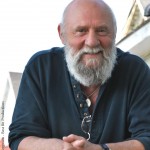 In the comings months Cape Breton author Frank Macdonald Frank will be giving readings across Nova Scotia.
June 23, 7 p.m., he'll be at the Annapolis Royal's ARTsPLACE gallery (396 St. George St. Annapolis Royal, NS). Inverness artist (and Frank's partner) Virginia McCoy will be showing her work at the same time.
June 24, 7-9 p.m., Frank will give a reading at Vogler's Cove Community Hall (8544 Hwy 331) near Liverpool, NS, hosted by the Liverpool Literary Society and the VCCH Read and Share Corner. The event is free and everyone is welcome.
August 20, 7 p.m., Frank will give a reading at LeNoir Forge Museum (708 Veterans Memorial Dr., Arichat), hosted by the Isle Madame Historical Society.
We're sending Frank off with a recent review of Tinker & Blue ringing in his ears:  "All the while there is Macdonald's wily and warm wit and wisdom, accompanying his travellers like a cozy quilt of acumen."
Celtic Life International, vol. 29, no. 2, (April 2015).