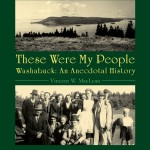 Among a flurry of reviews received last week are these great comments about Vincent W. MacLean's These Were My People: Washabuck, an Anecdotal History (CBU Press 2014).
Ethnologies, published by the Folklore Studies Assoc. of Canada, says These Were My People is a fascinating approach to community history "because it allows an author to inject colour and texture into what might otherwise be a dry retelling of facts and dates by focusing on the stories that come directly from the people."
"MacLean has delivered an impressive account of everyday life," the review continues, that "offers the reader a unique perspective into a world that is as familiar as some of our own communities, yet infused with the unique influence of Gaelic culture."
These Were My People was written and edited to be an "anecdotal history," as articulated in the book's title. It's a term we picked up from Cape Breton author Frank Macdonald and we were thrilled to read that the above reviewer commented so favourably on that aspect of Vince MacLean's great book.
You're welcome!