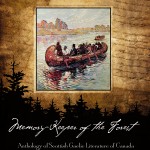 A great synopsis and review of Michael Newton's Seanchaidh na Coille – Memory-Keeper of the Forest is forthcoming in Ethnologies (vol. 38, no. 2: 293-296).
"engaging and accessible […] valuable in both broad and specific terms."
"As a result of his healthy contextualization, Newton has succeeded in contributing to the canon of not only Gaelic literature, but of Canadian literature more broadly, and has fleshed out the image of the Gael as it pertains to the earliest sense of Canadian multiculturalism."
"The anthology has both academic and common appeal and invites inquiry through its generous presentation of previously inaccessible material. Its contents promise to contribute to future scholarship in a way that both complicates and enriches the image of 'the Gael' in Canada and is, therefore, a welcome addition to any interdisciplinary library."
Great to see that Michael's contributions (and ours) are making a difference.