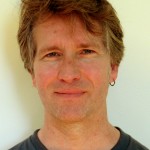 Perhaps you saw the research circulating in media in recent weeks that people who swear a lot tell the truth more often – or something like that.
So, who is a Scottish newspaper to call to get a Gaelic perspective? Last week we fielded a call from a Scottish Sun staffer who was preparing an article on "potty-mouth" and looking for a Gaelic expert: Michael Newton, of course…
Newton is the author of the enormously popular Naughty Little Book of Gaelic: All the Scottish Gaelic You Need to Curse, Swear, Drink, Smoke and Fool Around (CBU Press 2014), illustrated by Arden Powell.
And, quick as you can say rach a h-irt (go to St. Kilda – apparently the equivalent of hell) there's Michael on page 10 of the Sun (Friday, January 20, 2017).
It's a dirty job, but somebody has to … say it.
Michael Newton is highly respected author and researcher with numerous serious books to his credit too, including Seanchaidh na Coill \: Memory Keeper of the Forest: Anthology of Scottish Gaelic Literature of Canada (CBU Press 2015).