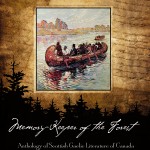 Love this account and review of Michael Newton's Seanchaidh na Coille / Memory-Keeper of the Forest: Anthology of Scottish-Gaelic Literature of Canada (CBU Press 2015) by Fearghas MacFhionnlaigh at Bella Caledonia
In a review titled "Canadian Gaeldom: Faded Footprint Redefined," MacFhionnlaigh writes: "Be well reassured regarding gaelophone Newton's professional credentials: he is a diligent primary-source researcher, a highly sophisticated cultural thinker, and a cage-rattling radical … I am enthusiastic about this man's work."
'Nuff said. Link to the full article here.
Bella Caledonia's website boasts the subtitle "Independence – Self-determination – Autonomy."
Originally from Dunbartonshire, Fearghas MacFhionnlaigh is a Gaelic poet in Inverness whose work has appeared in numerous publications; he has published three books. In his teens, Fearghas formed the "conviction that Scotland should be an independent republic. He formally Gaelicised his name in 1983 by amending his birth certificate … his way of declaring a 'republic of the mind'." (Biographical info from: Black, Ronald. 1999. An Tuil: Anthology of 20th Century Scottish Gaelic Verse. Edinburgh,U.K.: Polygon.)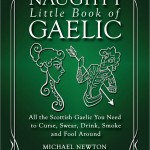 Michael Newton is the author of numerous books, including our best-selling Naughty Little Book of Gaelic.