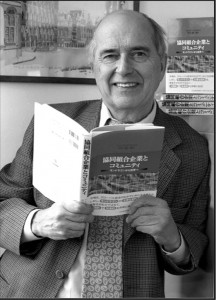 We are saddened to learn of the death of Fr. Greg MacLeod (May 3, 2017). Fr. Greg was one of the last of a class of professor priests, whose footsteps walked the talk of social justice and a social economy.
Fr. Greg was instrumental in the development of what is now Cape Breton University and one of its most cherished programs: community development. His influence on the university and on Cape Breton will be felt for generations.
The May 4, 2017 edition of CBC Cape Breton's Information Morning replayed an interview with MacLeod, which was one of a series of interviews of Cape Breton Leaders who "get things done" back in 2009. Link here to listen to that item.
Those interviews were turned into a book, by host Steve Sutherland, titled Getting it Done: Conversations with Cape Breton Leaders (CBU Press 2009). We've posted the chapter on Fr. Greg MacLeod -link here.